Fast, accurate colour management simplified with RICOH Auto Color Adjuster
Commercial printing production versatility increased with responsive colour consistency capabilities
Ricoh Europe, London, October 4, 2023 – Commercial printers can expand into colour critical markets, increase production versatility, streamline production processes and improve the quality and consistency of the jobs they deliver with the new RICOH Auto Color Adjuster.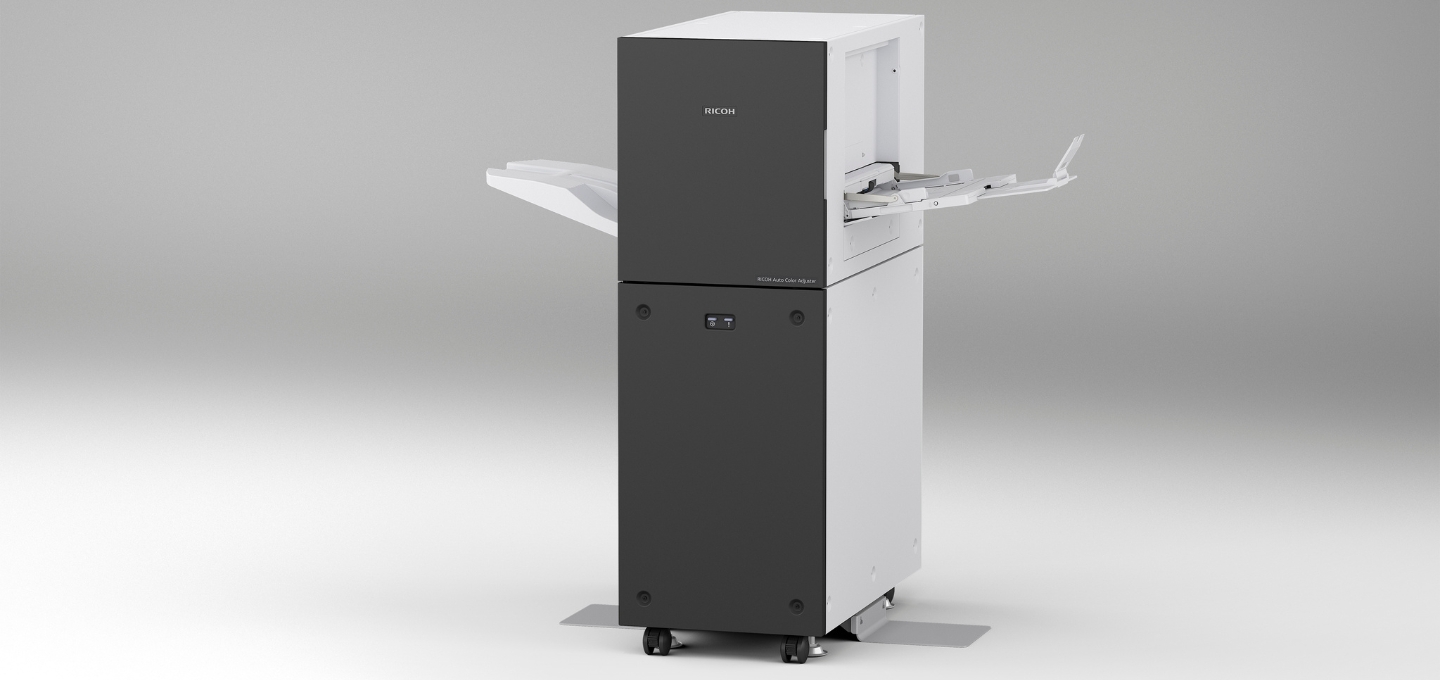 Ricoh developed, the Auto Color Adjuster speeds up the labour intensive process of achieving precise colour reproduction from system to system, and job to job. It can help commercial printers overcome the complexities and staffing challenges associated with professional colour management by enabling team members to create ICC profiles in a matter of minutes, match colour from pre-printed samples, to run jobs across multiple systems. 
It can help commercial printers: 
Win new work with the ability to reproduce colours from unknown sources, printed images, digital and offset technologies. 
Expand into colour critical markets with Ricoh's advanced optical and digital technologies enabling fast measurement and the automatic adjustment of colours. 
Increase production capacity with fast, precise colour matching. Automatic ICC profile generation increases productivity and accommodates short run repeat orders.
Drive production flexibility and increase profit margins with the freedom to run jobs at any time as there is no need to schedule colour critical jobs around an expert.
Streamline production with easy verification of colour adjustments against compliance standards while colour samples can be matched perfectly. 
Ensure reliable colour consistency across multiple jobs and reduce costly reprints and missed deadlines through the removal of colour variation. All digital production devices across all sites can be centrally managed via the vendor-diagnostic system, and runs can be split across different devices to meet client deadlines.
Eef de Ridder, Vice President, Graphic Communications Group, Ricoh Europe: "Time taken to manually adjust colour to meet print buyers' demands can quickly impact profitability, while the costs of trial and error, blocking precious press time to troubleshoot and employing a colour expert all mount up. RICOH Auto Color Adjuster speeds up the process. It empowers commercial printers to take on new jobs and work that was previously out of reach, and so expand their client base." 
The RICOH Auto Color Adjuster is available across EMEA now and is being demonstrated during the Print Evolution Live event at Ricoh Customer Experience Centre in Telford on the 3rd and 4th October. 
For more information visit www.ricoh-europe.com.
Ricoh is a leading provider of integrated digital services and print and imaging solutions designed to support digital transformation of workplaces, workspaces and optimize business performance.
Headquartered in Tokyo, Ricoh's global operation reaches customers in approximately 200 countries and regions, supported by cultivated knowledge, technologies, and organizational capabilities nurtured over its 85-year history. In the financial year ended March 2023, Ricoh Group had worldwide sales of 2,134 billion yen (approx. 16.0 billion USD).
It is Ricoh's mission and vision to empower individuals to find Fulfillment through Work by understanding and transforming how people work so we can unleash their potential and creativity to realize a sustainable future. 
For further information, please visit www.ricoh.com
For further information, please contact: 
Ricoh UK
Monika Orolinova
Tel: +44 20 7655 0100
Email: press@ricoh.co.uk

Read our insights at: insights.ricoh.co.uk
Homepage: www.ricoh.co.uk
Join us on Facebook: www.facebook.com/ricohuk
Follow us on Twitter: www.twitter.com/ricohuk
Connect with us on LinkedIn: https://www.linkedin.com/company/ricoh-uk
Visit the Ricoh media centre at: https://www.ricoh.co.uk/news-events/news/index.html
© 2023 RICOH COMPANY, LTD. All rights reserved. All referenced product namesare the trademarks of their respective companies.