Manage & reduce the risks
Detect, identify and prevent cyber threats to your business
Cybersecurity
Internet-enabled devices play a transformational role in enabling better and more productive working environments. However, at the same time, they also create new vulnerabilities to cyberattacks. With more users relying on mobile devices and potentially vulnerable IT networks in hybrid setups, you need a comprehensive cybersecurity strategy that's fundamentally embedded into the way your business operates.  
Build resilience into your IT 
We help you go on the offensive against cybercrime with intelligent cybersecurity services and solutions aligned to your core business processes. Our leading cybersecurity expertise can help you build a resilient IT infrastructure, understand and manage your vulnerabilities, and grow with confidence.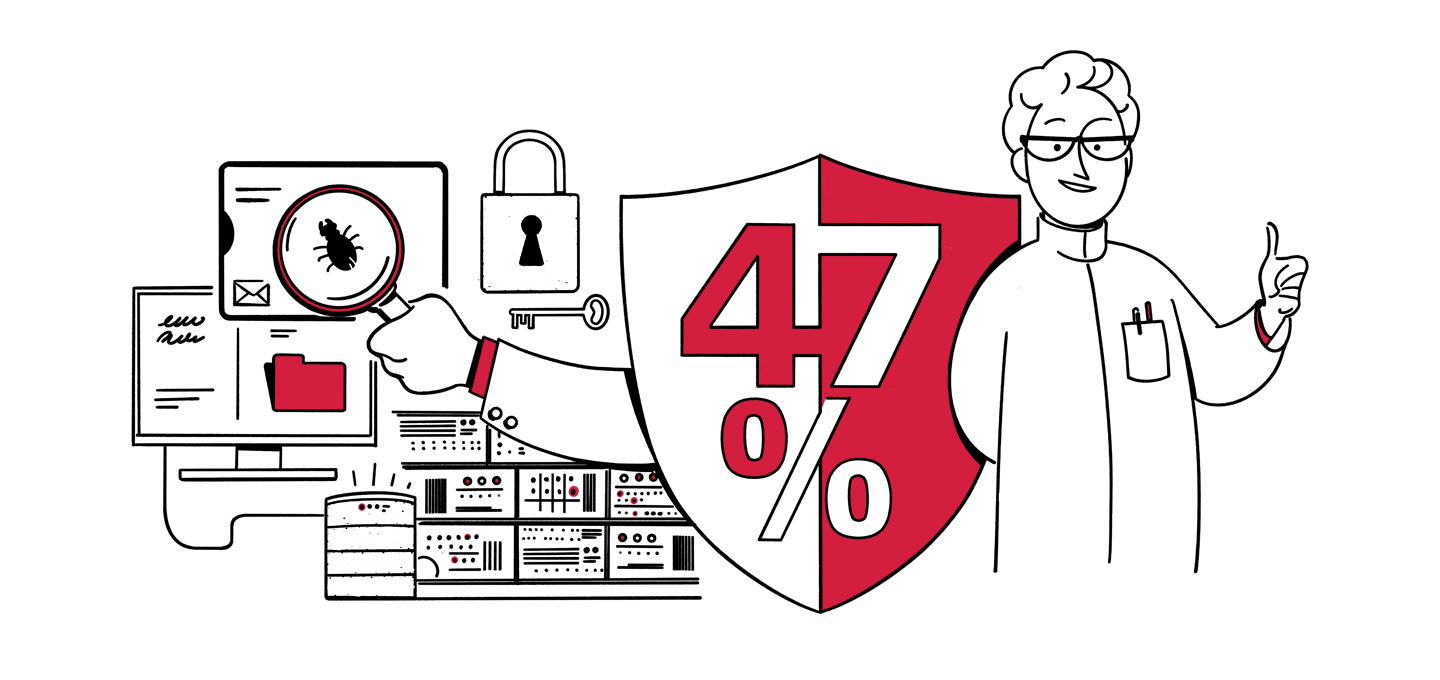 47% of companies that currently use digital workplace technology say their main challenge is protecting their business against increasing security risks.
Your data, company, staff and even your customers, are all at risk. With our Cybersecurity Solutions you can provide the necessary protection – no matter where and how they work.
Most organisations know they must embrace new technologies and continually innovate to remain competitive. Yet the race to introduce more distributed digital touchpoints also presents multiple opportunities for cybercriminals to exploit if not appropriately managed.
Create a culture of security by design 
All too often, cybersecurity is an afterthought – something that is bolstered by a checklist-approach rather than built into every technology-enabled business activity. However, when a lack of resilience in today's security could result in tomorrow's vulnerability, a reactive approach to cybersecurity is not good enough. 
Research shows data breaches cost businesses an average of £3.13 million1. If organisations are to combat threats, they must create a culture of security by design. This demands a proactive, pragmatic, and strategic approach that considers risk and security from the onset of any new initiative. 
Future-proof cyber resilience 
When cybersecurity is placed at the centre of business transformation and innovation, it enables trust in systems, designs and data, allowing you to take on more risk and lead transformative change. Wherever you are on your cyber journey and whatever your business objectives, we provide leading cybersecurity solutions and services to help you build cyber resilience and scale with confidence. 
1 https://workplaceinsight.net/lack-of-cohesion-in-many-organisations-on-effectively-adopting-the-digital-workplace/
Cybersecurity Services

Cybersecurity Solutions

Managed Cybersecurity Services
How can we help?
Stay up to date
Receive the latest news and insights on driving your organisation's digital maturity, delivered direct to your inbox. 
Sign up
Talk to a Ricoh expert
Get in touch with one of our consultants and find out how we can help your business.
Contact us
Ricoh Business Services
Explore a range of professional services and solutions to help your organisation progress on its digital journey.
See all our Business Services