Automation focused RICOH Pro™ VC80000 rewrites inkjet economics
Ricoh Europe today announced the new RICOH Pro VC80000. With this new high speed inkjet webfed platform, print service providers can harness enhanced automated production, closed loop quality control and more advanced production floor integration, to enjoy highly efficient operation and application agility.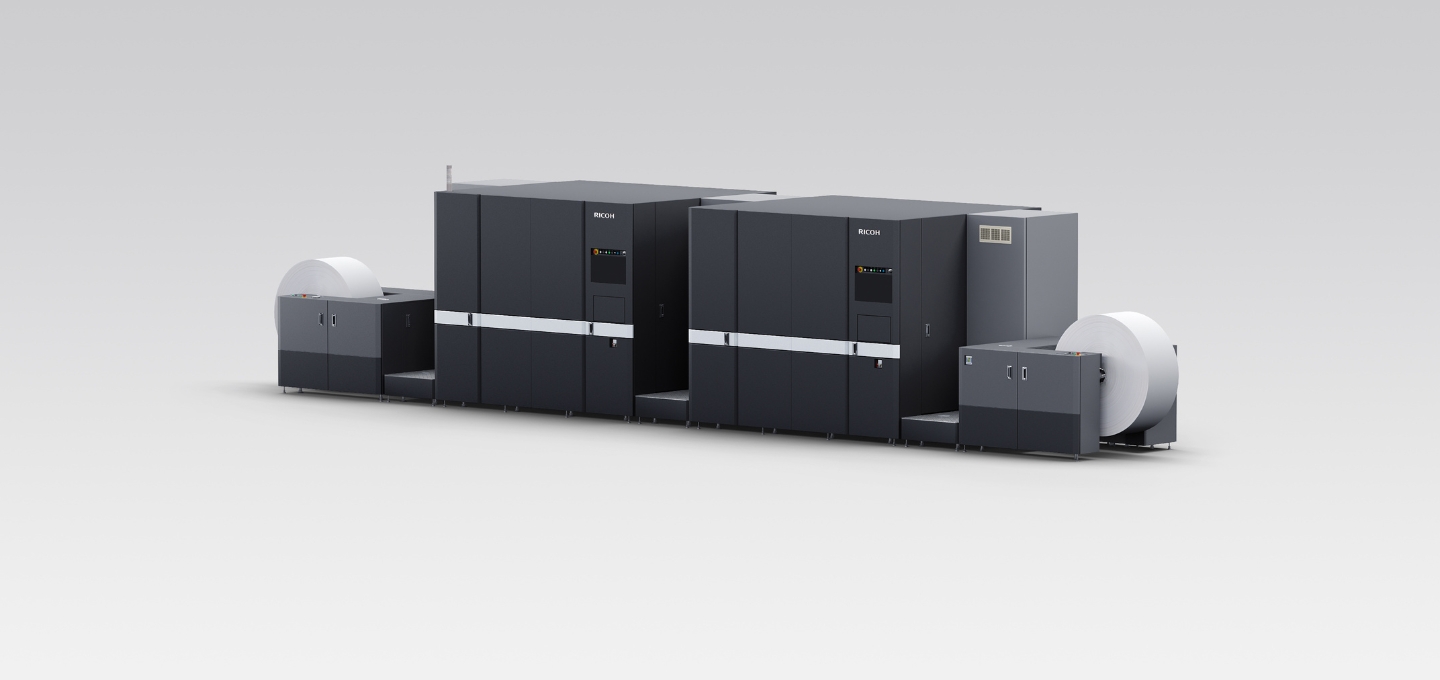 The RICOH Pro VC80000 builds on the success of the RICOH Pro™ VC70000 and is designed to produce exceptional quality direct mail, colour books, catalogues, magazines, and commercial print applications on coated media up to 300gsm. A unique family of software and hardware tools delivers increased automation of production, print quality control and communication with many AI, machine learning, and data analysis features that ensure predictable and repeatable output with minimal operator intervention.
The smallest machine in its class, with a full duplex engine measuring less than ten metres, it incorporates the latest generation ink and temperature controlled inkjet heads. It introduces a number of groundbreaking technologies that achieve a maximum resolution of 1200 x 1200dpi, a maximum speed of 150mpm – creating a 50% increase in production output compared to previous generation presses – and focuses on maximising productivity to drive down the Total Cost of Ownership (TCO). They include:
Faster startup times with new 'firefly' dryer technology. An innovative configuration of small, heated rollers that bring the press up to temperature in less than half the time of a typical drying system. 
Next level automated quality control with a fully incorporated RICOH Pro Scanner first introduced as an option on the RICOH Pro VC70000. The scanner actively monitors multiple facets of print quality and constantly reviews the performance of each individual head allowing the Pro VC80000 to automatically maintain a consistently high level of output quality. Colour to colour and front to back registration are automatically controlled and corrections immediately implemented.
Elimination of manual image adjustment with a spectrophotometer for real time monitoring of colour reproduction. Any variance in the target output can be identified and the necessary adjustments made on the fly.
RICOH Supervisor™ collects and interprets operational data sourced from the RICOH Pro Scanner and other connected production print devices and creates web based dashboard views using analytics from its business intelligence tool to optimise device utilisation and throughput.
Highly automated quick paper setup, enabling a brand new substrate that is not stored in the media library to perform optimally at the touch of a button. A SmartStart feature allows automated machine setup prior to the start of a shift without an operator on site.
Enhanced communication for inline finishing facilitates complex end to end solutions working more effectively. Auto splicing units are also supported for nonstop production.
Intelligent communication enables maintenance and performance improvements. Service intervention can be predicted, and data collected to improve operational efficiency.
The RICOH Pro VC80000 is supported by Ricoh's diverse portfolio of brand agnostic software, including RICOH ProcessDirector™ which is the leading automated end to end workflow management solution designed to capture, transform and manage information and processes in ways that can help achieve 100% output integrity, RICOH Auto Color Adjuster which provides precise colour management and matching capability without the need for a colour specialist, and FusionPro® to handle all personalised communication needs – which drive efficiency and a stronger return on investment.
These features have proven to be a winning combination for the beta installation at the Sattler Media Group in Germany, one of Europe's leading media companies, with specialist expertise in commercial printing, direct mail, omnichannel marketing and logistics. Christian Haneke, Innovation and Solutions Manager, states: "The level of automation achieved by Ricoh's Pro VC80000, combined with up to 50% higher output of high quality products compared to our current technology, as well as its operator friendly approach, is transforming the role that inkjet plays in Sattler Media Group's production portfolio."
"Our high speed inkjet clients share similar production challenges: they need high speed capacity to fulfil large orders and tighter turnaround times, and tools to make operating their presses easier and more efficient," said Eef de Ridder, Vice President, Graphic Communications Group, Ricoh Europe. "The RICOH Pro VC80000 is built on what made the previous generation a client favourite and is a testament to our commitment to helping clients solve their challenges. It sets a new standard in automation and data first intelligence to increase productivity and usable output with consistency across operators and shifts.  Following closely on the release of the B2 sheetfed RICOH Pro Z75, it cements Ricoh's status as a market leader  in production inkjet printing."
The RICOH Pro VC80000 high speed inkjet press is available from early 2024 across EMEA.
For more information visit www.ricoh-europe.com.
Ricoh is a leading provider of integrated digital services and print and imaging solutions designed to support digital transformation of workplaces, workspaces and optimize business performance.
Headquartered in Tokyo, Ricoh's global operation reaches customers in approximately 200 countries and regions, supported by cultivated knowledge, technologies, and organizational capabilities nurtured over its 85-year history. In the financial year ended March 2023, Ricoh Group had worldwide sales of 2,134 billion yen (approx. 16.0 billion USD).
It is Ricoh's mission and vision to empower individuals to find Fulfillment through Work by understanding and transforming how people work so we can unleash their potential and creativity to realize a sustainable future. 
For further information, please visit www.ricoh.com
For further information, please contact: 
Ricoh UK
Monika Orolinova
Tel: +44 20 7655 0100
Email: press@ricoh.co.uk

Read our insights at: insights.ricoh.co.uk
Homepage: www.ricoh.co.uk
Join us on Facebook: www.facebook.com/ricohuk
Follow us on Twitter: www.twitter.com/ricohuk
Connect with us on LinkedIn: https://www.linkedin.com/company/ricoh-uk
Visit the Ricoh media centre at: https://www.ricoh.co.uk/news-events/news/index.html
© 2023 RICOH COMPANY, LTD. All rights reserved. All referenced product namesare the trademarks of their respective companies.