Ricoh Rugby Change Series launch Physicality video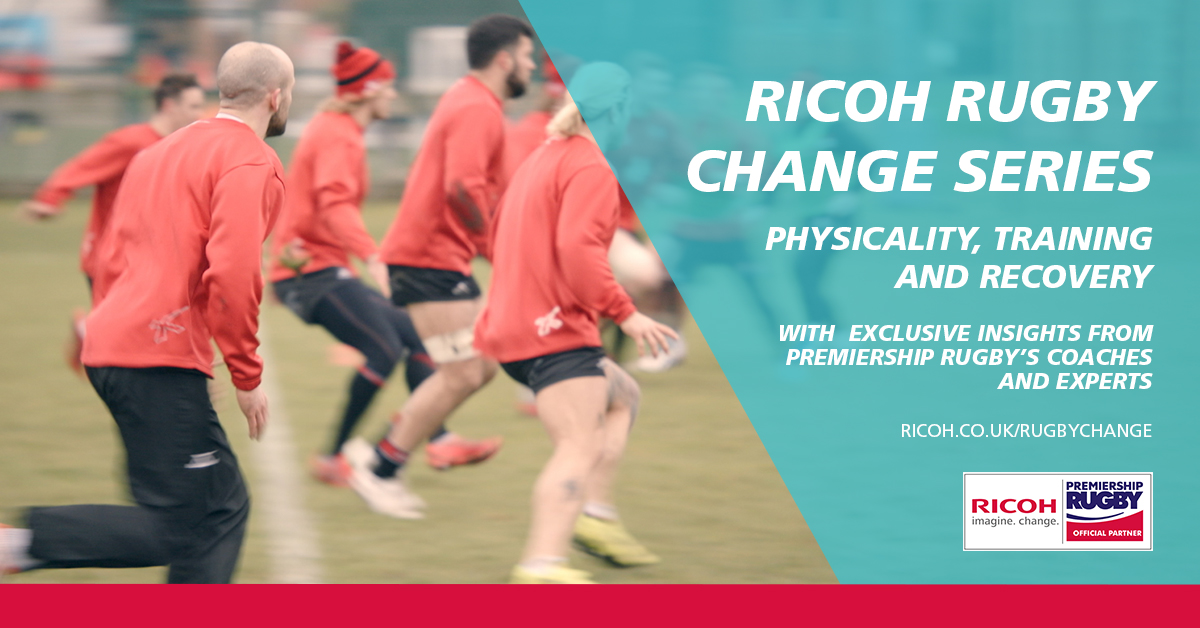 Global technology company Ricoh today launched the sixth and final film in their Rugby Change Series; which identifies and analyses the major changes in rugby that have occurred since the onset of professionalism.
The latest video in this campaign, featuring a number of Premiership Rugby coaches and Ricoh ambassadors, examines how the physicality of players has changed over the years and how this has impacted the game.
The changes have been profound and due to the increased focus and investment Premiership clubs are now placing on player fitness and welfare, we are now witnessing a dramatic change in the physicality of players and the game as a whole. Trystan Bevan, Performance Coordinator at Wasps, commented: 'Players now are a combination of Bill Beaumont's size and power with Rory Underwood's speed.'
This is clearly illustrated in the statistics, with bigger players running quicker, for longer and at a higher intensity than ever before. For example, in 1994 the average size of the England team was 92.3kg. By 2014 this had increased to 105.3kg – an increase of 13kg or 2 stone in bodyweight on average.
The latest film also investigates what this means for the players in terms of their diet, fitness regimes, injury prevention and recovery.
Players eat and train to get bigger and bigger - the average 100kg professional rugby player consumes 5x the amount of protein as the average male.
However, this has affected the types of injuries that players now tend to incur, which, consequently, has impacted the clubs' approach to injury management, prevention and recovery in order to ensure that their players are able to compete at their highest level in the Premiership environment.
So, can rugby players get any bigger? Trystan Bevan doesn't think that we are at the point where rugby has reached the ceiling physiologically, however Paul Grayson, Saints all-time leading point scorer, believes that skill-development rather than sheer size is the most important area of development.
Throughout the Ricoh Rugby Change Series, a wide variety of trends and changes across technology, strategy, kicking, gameplay, professionalism and now physicality has been examined. Premiership Rugby clubs and players continue to innovate and challenge the boundaries to achieve success and this series has provided fans with key insights to some of the changes which allow them to do so. We can only imagine how the game will develop in the next decade and are excited to see what the future will hold for Premiership Rugby and its fans.
Please visit www.ricoh.co.uk/rugbychange to watch the Physicality video and learn more.
| About Ricoh Rugby |
At Ricoh, we believe that inspiring new ideas and embracing change are crucial to success in both business and sport. The Ricoh Rugby Change Series aims to bring this home by identifying and analysing the major changes that have occurred in rugby since the onset of professionalism.
This new era of the game and the continuous development of technology have caused significant shifts in the strategy behind the game, the size and the skills of the players, how the sport is played on the pitch and how we as spectators consume it.
The study highlights what these major trends affecting the game are, and analyses each key area of change in more detail in a series of exclusive insights across the Aviva Premiership Rugby season.
Visit www.ricoh.co.uk/rugbychange and follow us on Twitter (@ImagineChangeUK) & Facebook (Imagine Change UK) for more information.
For further information, please contact:
Ricoh UK Ltd
Kathryn Evans
Tel: +44 7795224426
E-mail: Kathryn.evans@ricoh.co.uk   
Homepage: www.ricoh.co.uk   
Follow us on Twitter: www.twitter.com/ricohuk   
Connect with us on LinkedIn: https://www.linkedin.com/company/ricoh-uk
| About Premiership Rugby |
Premiership Rugby is the organisation which manages the top league in English club rugby – Aviva Premiership Rugby.
It acts for its shareholder clubs in all major commercial and strategic negotiations with media and sponsorship partners of the league, as well as with other rugby governing bodies. Premiership Rugby is also responsible for key areas of governance of the top flight competitions, including the Salary Cap Framework, Minimum Standards Criteria and Code of Conduct, as well as managing the Aviva Premiership Rugby competition, the Singha Premiership Rugby 7s and the Anglo-Welsh Cup, all of which are televised live exclusively by BT Sport. Partners for the 2016-17 season are: Aviva, BT Sport, Ricoh, Citizen, Gilbert, ITV Sport, Land Rover and Singha Beer.
Premiership Rugby runs more than 90 local and national community rugby programmes. Each season Premiership Rugby and its clubs, working together with our players, coaches and impressive list of private, public and third sector partners, invest over £3.3million in a variety of community programmes under the Play and BreakThru campaigns which aim to grow grassroots participation and tackle core issues.