Ricoh goes behind-the-scenes with Hawk-Eye and Leicester Tigers in the second instalment of the Business of Rugby
In the second chapter of The Business of Rugby series, launched today, Ricoh examines how developments in technology off the field have inspired landmark evolution across Premiership Rugby clubs.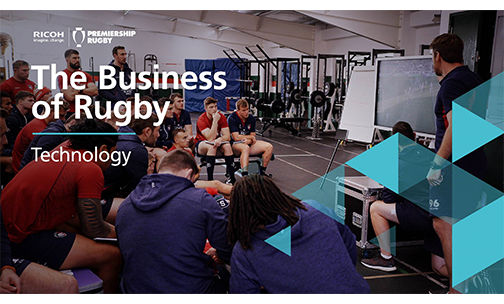 The 'Technology' chapter is available now at
www.rugby.ricoh.co.uk
and features two new video case studies. In the first video titled 'Making Safety Smarter', Ricoh Rugby goes behind-the-scenes with Hawk-Eye to examine how a dedicated matchday Pitchside Video Reviewer (PVR) is being utilised across Premiership Rugby clubs for the first time this season to reduce the number of undiagnosed concussions. The Synchronised Multi-Angle Replay Technology (SMART) system generates up to eight angles simultaneously, allowing staff to keep an eye on as much of the pitch as possible and respond immediately if a player is involved in a collision which carries a risk of injury. 
In the second video, Ricoh ambassador Ben Kay visits his former club Leicester Tigers to talk to interim head coach Geordan Murphy and Performance Analyst Simon Barbour about how the team uses technology for training, analysis and player welfare. Virtual reality has been identified by both coaches as the area of the most imminent growth when it comes to the future of sport technology. 'For decision makers to read cues of bodies and body language without having to go out and put miles on the clock, it would be very beneficial, so I am hopeful that is where it goes in the next few years,' commented Geordan Murphy. 
The Business of Rugby campaign explores what it takes for Premiership Rugby clubs to generate lasting success, on and off the pitch. A report and video series made up of four chapters focusing on the four factors that Ricoh believe are essential to developing a winning strategy: people, place, process, and technology, are being released throughout the 2018/19 Gallagher Premiership Rugby season. The aim is for each chapter to provide fascinating insights and behind-the-scenes access to the Premiership Rugby clubs.
Visit www.rugby.ricoh.co.uk to view the first two chapters of The Business of Rugby report focusing on 'People' and 'Technology'. Follow Ricoh Rugby on @imaginechangeuk #thebusinessofrugby.